Aliwal Shoal is rated as one of the top 10 dive spots in the world, but regular divers say it is second only to the rocky ride over breakers to get there, the marine life of Aliwal Shoal is said to be spectacular. Raggies or ragged tooth sharks are regularly spotted between August and November as they use the area to mate.
Marine Calendar for Aliwal Shoal
| | |
| --- | --- |
| Marine Visitor | Best chance of seeing |
| Ragged Tooth Shark | June to November |
| Tiger Sharks | December to June |
| Black Tip Reef | All year round |
| Bottle nose Dolphins | All year round |
| Turtles | All year round |
| Manta Rays | Varies season to season, typically when sea temperatures are at their warmest. |
| Humpback Whales | June to October/November |
We have a great variety of all year round marine life from the beautifully flamboyant nudibranchs and other small critters, reef fish, rays and eels.
Aliwal Shoal is made up of one large reef, around 3km in length. It has many different dive sites at varying depths so there's something to suit all levels of divers. Some of the more popular ones are listed below: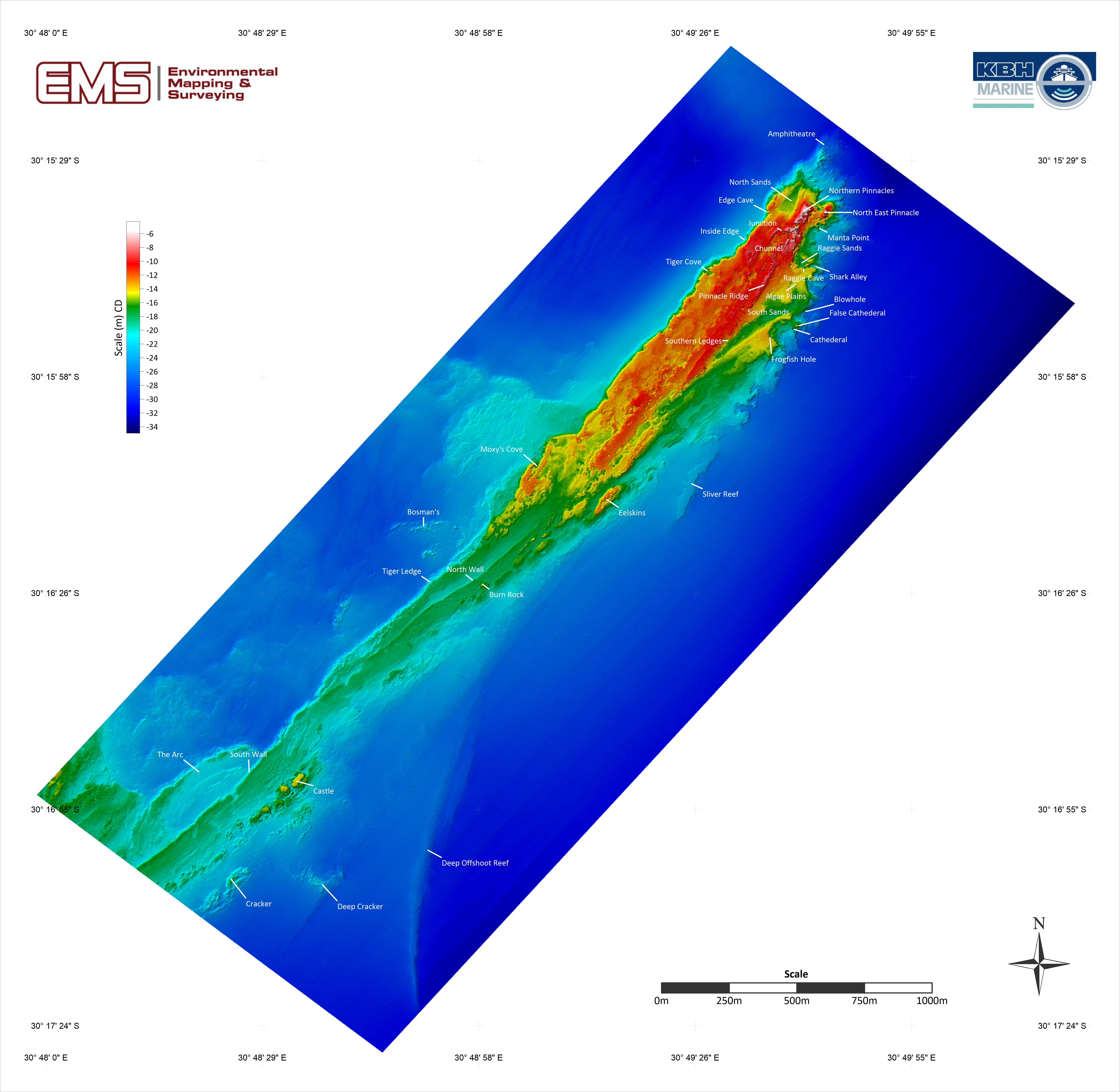 Raggie Cave
Maximum depth 17m. Best for Ragged- Tooth Sharks (during season).
Large area with overhanging cave system where Ragged-Tooth Sharks rest. Large sand patch in front of cave system is also favoured by the sharks. Coral and sponge encrusted rocks in the area make for interesting critter viewing including moray eels and brightly coloured nudibranchs.
Cathedral
Maximum depth 27m. Best for Ragged-Tooth Shark (during season), other smaller marine visitors
Large amphitheatre structure with entrance either via large front archway, through the roof or through the swim through slightly to the side of the front archway. Visually stunning rock formation leads to crater like centre to Cathedral.  Also look out for paper fish, frog fish and pineapple fish in or around the area.
Northern Pinnacles
Maximum depth 18m.  Best for Honeycomb morays and Rays. Shoals of reef fish and fish nurseries.
On the north eastern end of the Shoal, formed by a spine of rock formations that rise up from the sea bed forming a series of gullies, caves and potholes.  Look out for some of our incredibly well camouflaged crtitters, including leaf fish, various eels ,  paper fish and a school of resident batfish.  Top spot for Manta's during the season.
South Sands
Maximum depth 17m. Best for spotting large groups of rays, including sandsharks and pods of dolphins.
A large sandpatch with fragmented patches of coral reef. Look up and out into the blue  for passing schools of gamefish, and other large fish,  whitetip reef sharks, manta and devil rays.  Schools of red fang trigger fish reside here.  Look in the small ledges on the outskirts for Crayfish and Natal seacatfish.
There are also two wrecks to dive "The Produce" and "The Nebo".
The Produce
Maximum depth  32m.
It was a Norwegian bulk carrier that sank on 11 August 1974 after colliding with The Aliwal Shoal. No lives were lost as local fisherman rescued the sailors. The Produce is home to Brindle Bass, Harlequin Goldies (only found on the Produce, Nebo and Cooper's light wrecks), Lionfish, Salmon and Kingfish as well as an abundance of colourful tropical fish. The wreck has started to break up in the last few years and penetration dives are not advised.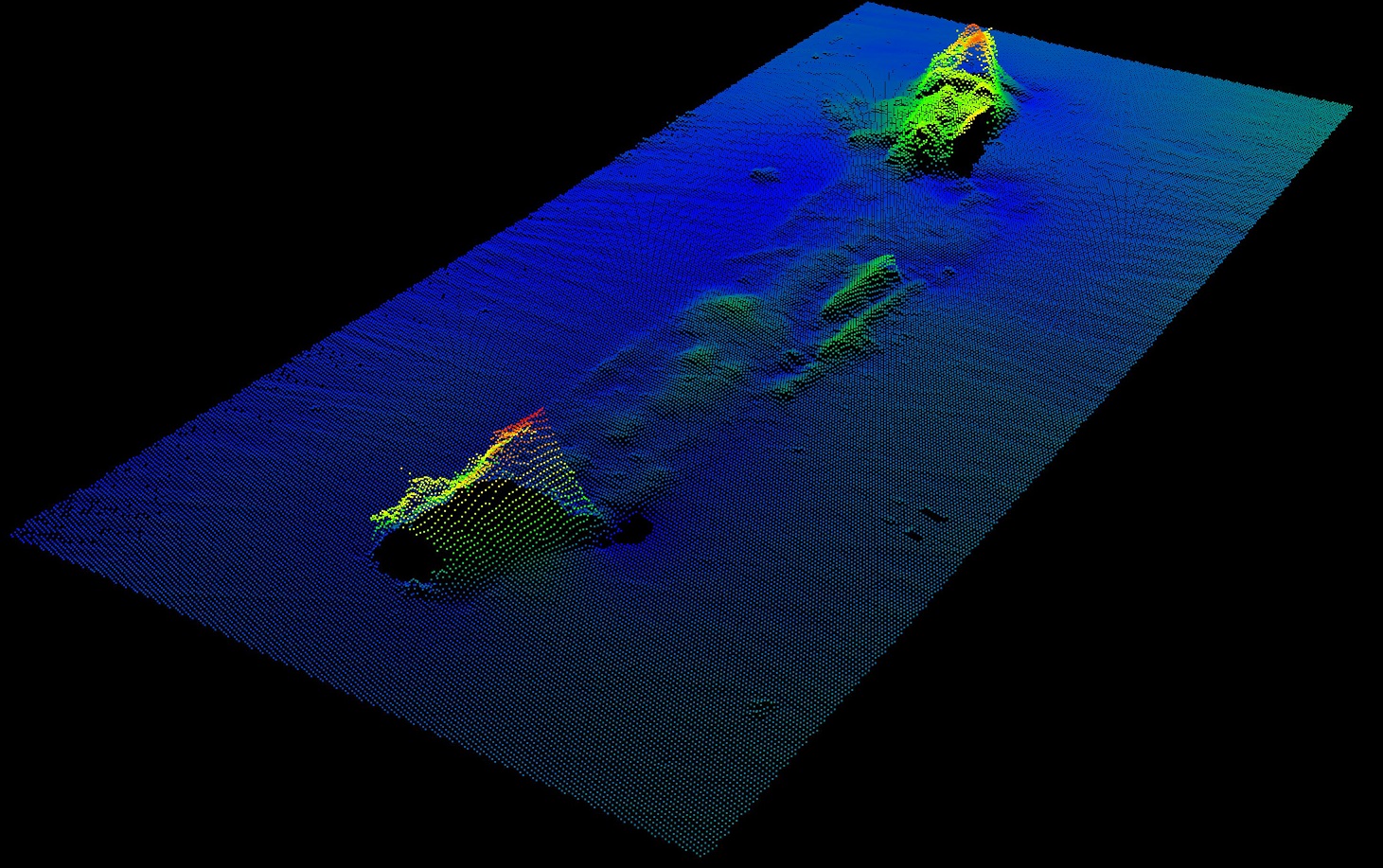 The Nebo
Maximum depth 27m.
This wreck turned over and sank in heavy seas with its cargo of railway materials on the 20th of May 1884 and is now a national monument. This wooden wreck is fairly intact and is an interesting dive especially the swim through at the propeller.  On this wreck Kingfish, Salmon and many tropical fish will be sighted. It is one of the few places on the Aliwal Shoal where you can  lose sight of your buddy because of the amount of small fish in the water.